Which wig I need, Lace Front or Closed Lace Front
You may have been thinking about it for awhile and perhaps it may feel a bit overwhelming. It's time to buy your first human hair lace front wig or maybe it's time to upgrade to the next level of wigs, but now what? Mswisdom Hair is here to be your guide and stay right by your side throughout your hair loss journey.
There are two main human hair wig hairline opportunities: lace and closed frontal. Now it's time to help you navigate towards the hair and scalp comfort of your dreams.
What is a Lace Front Wig?
Craving a natural hairline? Then lace front wigs are the perfect choice for a nearly invisible hairline. These premium wigs are best for anyone with premature balding, hair thinning or hair loss due to alopecia, chemotherapy, stress and genetics. The frontal lace is generally sheer and attached to the front of the wig, hence the word "frontal". Sheer lace creates a comfortable feel with a lean hairline and a natural growth appearance. Lace fronts allow for versatility with off-the-face parting, yet gentle look. Normally, lace frontals are 13 inches long from ear to ear and up to 4 inches wide, making it ideal for a seamless parting space. At FOLLEA, the Collection is a softly woven swiss lace front positioned from temple to temple, with hidden knots on darker colored hair for the most precise, natural looking scalp. Oh, and did we mention the hair is 100% hand tied and 100% human hair wigs?
How to Wear a Lace Front Wig?
There are several ways you can wear a lace front wig. You can either wear it with tape, elastic bands, or use glue. If you decide to use glue, make sure you use the right adhesive type designed specifically for installing lace fronts in place. Don't use lash glue or glue for craft work. Before you install your wig, do a skin test a day before to check if you are allergic to any of the materials you intend to use. You can do this by dabbing a small amount of liquid adhesive or double-sided wig tape onto the back of your hand and then observe for any changes. 
You can install your lace front wig without glue in no time, with these easy steps.
What you need to wear a lace front wig without glue
Adjustable elastic band
Lace wig cap
Comb
Scissors
Clips
Hair mousse
Silk scarf 
How to wear a lace front wig without glue
First prepare your skin by washing it with a gentle cleanser, then dab some  alcohol on a cotton bud and wipe across your hairline to remove excess oils.
Braid your hair into cornrows and put on the wig cap to flatten your hair and help keep the wig in place. Make sure all your hair is tucked into the wig cap, from the hair at the front to the ones at the nape of your neck.
Test the fitting of your wig by placing it on your head and lining it with your natural hairline to ensure it fits properly. If it is too loose around your head, you will need to tighten the elastic band. If it is too snug on the scalp, just loosen up the elastic band a bit.
As soon as you are satisfied that the wig fits properly, then you can trim the excess lace off the wig.
First, you pull the hair away from the face with a few clips and trim the lace along your hairline with a sharp scissors.
If your wig is unplucked, you will have to pluck them with a pair of tweezers and then bleach and tint the knots to resemble your natural hairline and match your skin tone. 
To create the baby hairs, you will need to cut some strands of hair at the hairline into smaller strands, and pull them out to create a more natural look. Then lay the part you want with water and mousse.
Tie a scarf over the edges and let it lay in place.
Comb and style your hair however you want.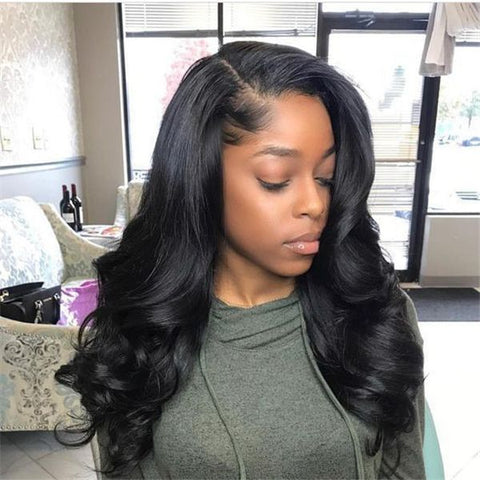 What is a Closed Lace Front Wig?
Closed Lace Front Wig are great for women who have multiple types of alopecia, including alopecia areata, thinning edges or someone who wants to wear their natural fringe. This wig or hair topper option may be cost-effective for someone with a low hairline, measuring in at 13 inches long and optional width.
What We Know for Sure
No matter which hairline you choose Lace Front or Closed Lace Front, remember your beauty comes from within. Go ahead, let your personal style mimic your personal glow.
Just remember, Lace Front Wigs are labor intensive and are generally higher priced then Closed Lace Front Wigs and hair toppers.
Sincerely hope above words is useful for you, if you want to know more about the human hair wig and human hair weave, please leave meassage to us order check our others article in blog, thanks in advance, and have a nice day! 
Related Post